Phoenix Contact offers the PLCnext Store, a digital marketplace for extending controllers and box PCs with apps. An ideal platform for the AnyViz Cloud Adapter.
Modern control systems usually use a Linux system as a basis and have sufficient performance reserves to handle more than just one job. This is also the case with the AXC F series from Phoenix Contact, which is generously equipped with 512MB RAM and ARM processor. Their special advantage is the PLCnext Technology Ecosystem, which makes it easy to expand and update controllers.

Phoenix Contact PLCnext Technology is the open ecosystem for industrial automation consisting of open hardware, modular engineering software, global community and digital software marketplace.
With the AnyViz Cloud Adapter App, you can turn your PLCnext controller into an IoT gateway. Real-time data from PLCs and surrounding systems can be collected and securely transferred to the cloud. If required, a VPN connection is provided to enable remote support. Locally available web HMI can be easily routed through the encrypted protocol and integrated into the cloud HMI.
Installation as app
The AnyViz Cloud Adapter app can be found in the PLCnext Store. If you click on "Install", the app can be installed on one or more connected devices and used immediately. Thus, the complicated handling of the Linux system is avoided. Alternatively, the app can be downloaded for offline installation and added via the web frontend of the PLC. Afterwards, the familiar web configuration interface is available via port 8888. Further instructions can be found under Getting started.
PLC data via OPC-UA
The OPC-UA protocol is recommended for the data collection of the PLCnext Runtime System. If the PLC is not yet configured for OPC-UA, the tutorial for configuring the OPC-UA Server is recommended. Afterwards, all PLC variables that have been made accessible are available in the AnyViz Portal.
Reuse existing HMI
The AnyViz protocol not only allows the exchange of data. One or more web visualizations can also be provided securely via the AnyViz Cloud. For this, only the URLs have to be entered in the configuration interface of the cloud adapter.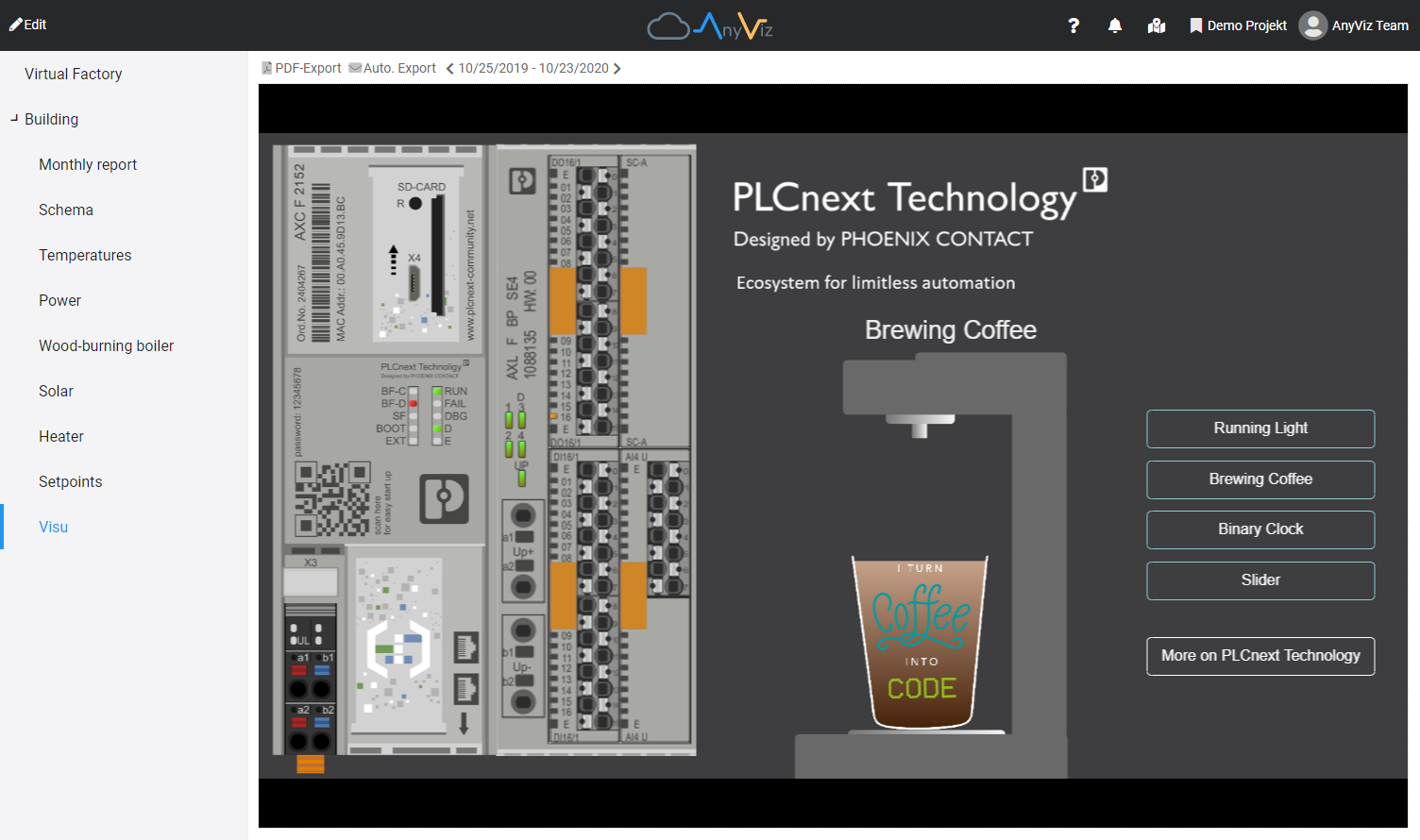 Further resources