We have been looking for this for a long time: A compact industrial IoT gateway for less than 100€. The Teltonika TRB series enables a large number of objects to be connected to the cloud via LTE at an unbeatable price. We tested the solution for a few months to introduce it today.
Many of our customers do not just want to monitor individual properties. They want to equip hundreds of devices with the AnyViz Cloud and connect them via LTE. If the systems to be monitored are very price-sensitive, the hardware component for the connection must also be very inexpensive. The majority of IoT Gateways available on the market are more expensive than 300€, in some cases even up to 1000€. A no-go for many industrial IoT projects.
Into the cloud with LTE
After a long search, we found the solution in Lithuania. Teltonika has over 20 years of experience in the IoT sector and recently launched the TRB140 series. These are compact devices, each with an LTE module and an additional port. Depending on the model, Ethernet, RS485 or RS232 are available. The TRB141 variant allows signals and sensors to be acquired directly, as it has several IOs. The devices are available in a robust metal housing or as a compact circuit board and have an extended voltage range of 9-30V. Adapters for top-hat rail mounting are optionally available.
In addition to the high quality workmanship, one thing convinced us above all – the price. For less than 100€, very small objects, such as a municipal well, can now be connected to the cloud via LTE at low cost, in keeping with the Internet Of Things philosophy.
Very easy installation
To install the customized AnyViz Cloud Adapter, only one command has to be executed via the Online CLI:
wget -qO - http://install.anyviz.io | sh
The web interface of the cloud adapter fits seamlessly into the configuration interface of the device. For more information on setup, see the TRB Installation Instructions.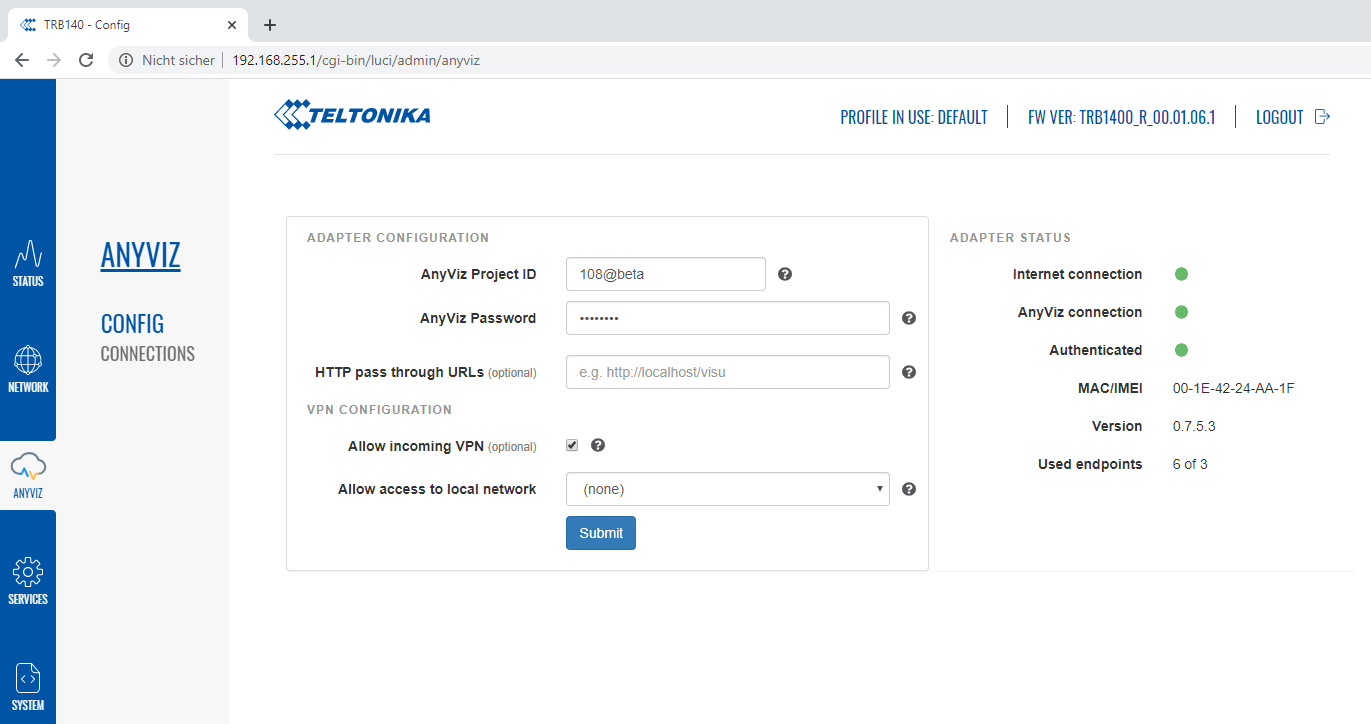 Full support for the cloud
All features of the cloud adapter are available on the LTE router. VPN Cloud access works out-of-the-box. More than 100MB of flash memory is available for buffering data in case of a connection failure. The IOs of the TRB devices can be used directly in the AnyViz Portal. AnyViz can also be used to display and monitor signal strength and other connection parameters. Depending on the selected variant, all of our supported protocols such as OPC-UA, Modbus TCP/RTU, Siemens-TCP, BACnet and M-Bus are available.